The iPad: "Correction 2.0" for tech-savvy profs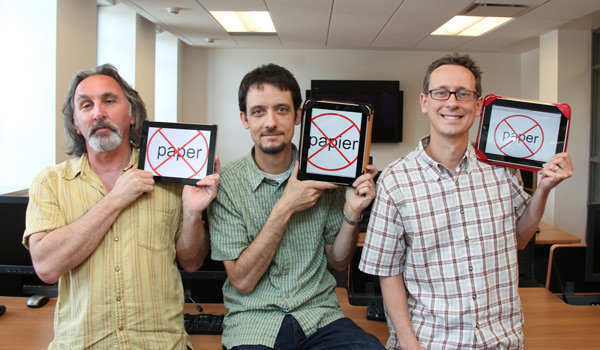 Two geography professors head up an innovative experiment
By Isabelle Marquis
Have you ever wondered if a university classroom could be a  "paper-free" zone? Two University of Ottawa professors have already taken a step in that very direction.
Robert McLeman, a professor in the Department of Geography, was looking not only for a way to simplify marking student papers, but also—and especially—a way to cut down on paper consumption in class. "I knew there must be a tech solution that would enable us to reduce the amount of paper we use while maintaining a high level of quality in our corrections," says McLeman, who is also the environmental studies program coordinator.
McLeman sought out the advice of Richard Pinet, director of the Centre for e-Learning at the University of Ottawa. After looking at various options, they finally decided on the iPad and its iAnnotate app, designed among other things for correcting school work. The app lets professors correct submissions electronically: they can circle words, draw arrows, add highlighting and even write in comments… All with the touch of a finger!
The first to test the idea in-class was geography professor Eric Crighton, in Fall 2010. That first attempt uncovered a number of issues, most of them technical. After a few adjustments, though, the second attempt proved very positive for all users—professors, teaching assistants and students.
The process was further improved by additions such as Dropbox, a web-based service that lets students drop off their work electronically. From the "dropbox," professors can easily forward each of their teaching assistants the work assigned to them for correction. Professors can even do quality control by viewing the corrections and comments made by their TAs.
Encouraged by Crighton's success, professor McLeman took his turn testing out the new solution in Winter 2011. He enjoyed using the iPad, and its many benefits convinced him to continue doing so. "First, it frees us from paper and lets us be more environmentally friendly," he says. "Moreover, it's much easier to collaborate with TAs. Students receive their corrected copies promptly by email, which is clearly much more efficient than handing back hundreds of paper copies in class."
According to the two professors, their TAs and students really enjoyed the experiment. Unlike a computer screen, the iPad is well-suited to long reading periods. It's also portable, allowing professors to correct work in the library, at the coffee shop, outside—anywhere.
Professor Crighton points out that making an iPad obviously leaves its own environmental footprint, but in his opinion, this is offset by the reduction in the amount of paper used in class, especially if more professors start adopting this method.
In the fall, the two geography professors plan to repeat the experiment in their respective classes. Professor Crighton predicts that in his two fall classes—a combined total of 500 students—he'll be able to reduce his paper consumption by over 10,000 sheets.
This innovative experiment stands a good chance of encouraging others to jump on board the tech train. Most importantly, it's a solution that will see an enormous reduction in paper consumption!